Solar PV
How does it work?
As a Renewable Energy source, Solar Photovoltaic (Solar PV) panels generate electricity from daylight (Solar Irradiation).
The higher the intensity of solar irradiation the more electricity they generate so, they work on both sunny and cloudy days.
Solar electricity can be used in our Commercial and Residential buildings to reduce the amount of grid-electricity we all need to use and pay for every year.
By using less grid electricity, we also reduce our harmful carbon emissions and help the environment.
It's no wonder then, that 90% of all renewable energy systems installed so far in the UK are Solar PV.
Hassle Free Installation
In addition to new-build, Solar PV is an ideal retro-fit property improvement. Apart from the initial survey and the final hook-up to your mains supply, the majority work takes place outside.
Most installations are carried out within 1-5 working days so disruption is minimal and for the occupants of the property, life carries on as normal.
Commercial Solar Summary
Larger systems, greater economies of scale
Part L Building Regulation compliance
Greater daytime occupancy maximises grid electricity savings
Benefit from the Government's SEG (Smart Export Guarantee Scheme).
Attractive ROI% – 6-10 year payback
20 year + high yield investment
Low cost annual maintenance contract
Long equipment warranties
Capital Allowance off-set
Adds value to your building(s)
Reduces your organisation's Carbon Footprint
Residential Solar Summary
Reduces your electricity bill
Benefit from the Government's SEG (Smart Export Guarantee Scheme).
Protects you from grid electricity price increases
Attractive ROI% – 8-14 year payback
Long equipment warranties
Low on maintenance
Adds value to your home
Vat at only 5%
Reduces your Carbon Footprint & helps the Environment
Is it reliable?
As there are no moving parts in a Solar PV system they require only periodic maintenance and are covered by a warranty and guarantee that can be extended for a term of up to 20 years.
For larger commercial scale systems we recommend and provide an Annual Maintenance Contract. Please see our Solar PV Servicing & Maintenance section for more details.
Solar PV has come of age
Driven by increased competition and market demand, solar panel production volumes have increased worldwide and so unit costs have come down. Simply put, they are as low as they are likely to get and this means that installing a solar energy system has never been more affordable or offered better value for money.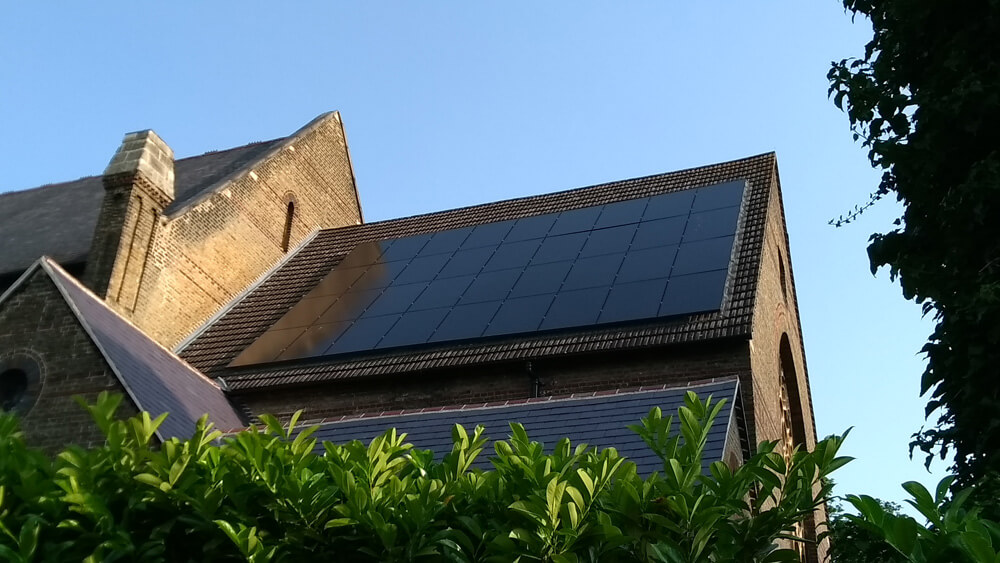 Annual Saving off your Electricity Bill and SEG Export Payment
With a Solar PV system your building will always use any electricity produced by the Solar PV system before any additional power, required to meet the buildings instantaneous demand, is brought in from the grid.
In this way, because you are using your own electricity you will import less from the grid and so your annual electricity bill will be lower. In fact, the more solar electricity you use, the greater the saving you will make off your bill and the faster the PV system will pay back.
As commercial properties tend to use the majority of their electricity in the daytime they generally benefit from a greater saving off their annual electricity bill and higher return on investment percentage.
If high demand appliances and/or machinery are involved, bills will be even lower.
Under the Government's SEG (Smart Export Guarantee) Scheme, both commercial and domestic system owners are paid for any electricity that is not used in their property and so flows automatically back to the grid.
The scheme is administered through electricity providers and once your system is fully installed and certified you can make an application through them. Please note you will need a Smart Meter which can record what you import from the grid and what you export.
Solar PV really is the property-improvement investment that pays for itself over and over again.
The Green Option
Solar PV reduces your reliance on non-renewable energy sources like gas, coal and oil and secures your future against rising energy prices. At the same time, you will have the satisfaction of knowing that by using less grid electricity, you are doing your bit for the environment by cutting your emissions of harmful CO2 and thereby reducing your carbon footprint.
This in itself can be leveraged in your favour as far as occupant/employee attitudes are concerned not to mention the CSR and PR opportunities for organisations.
Planning Permission
Even in conservation areas most installations do not require planning permission, indeed local authorities are only too keen to see the community install renewable energy systems.
However, there are cases where property owners will need to seek planning approval for their project. In these cases, Treadlighter will be able to guide you through the process by assisting with the preparation and submission of your application.
If you think a Solar PV installation at your property might require planning permission, we have the knowledge and experience to help you.
Adding Value to your property
With an installed base of well over a million Solar PV systems in the UK and grid electricity prices going only one way, experts now agree that minimising grid electricity usage to produce lower running costs, ranks highly in determining property decisions. Who wouldn't prefer to occupy an energy efficient property?